Relax and enjoy Alaska from our Wilderness Homestead-Remote Fishing Lodge-Small Group Retreat near Pelican Alaska!
Our Alaskan wilderness lodge was established in 1939 and provides simple comfort for up to nine guests in a remote setting. The lodge is surrounded by Southeast Alaska's Tongass Rainforest and is situated on a rare piece of flat ground inside Lisianski Inlet. From our beach the water depth drops to 600' and is home to king salmon and halibut while mountain views rise up 3,500' directly across the inlet!
A fast modern Alaskan charter vessel 32x12' with 24 knot cruise, heated cabin and walk around bow, has lots of room for six fishermen to catch salmon, halibut, lingcod and rockfish and enjoy the southeast Alaska wilderness. Our vessel is capable of going in very shallow waters and we often will switch from ocean fishing to fishing a river or a slough for salmon or trout in the course of the day.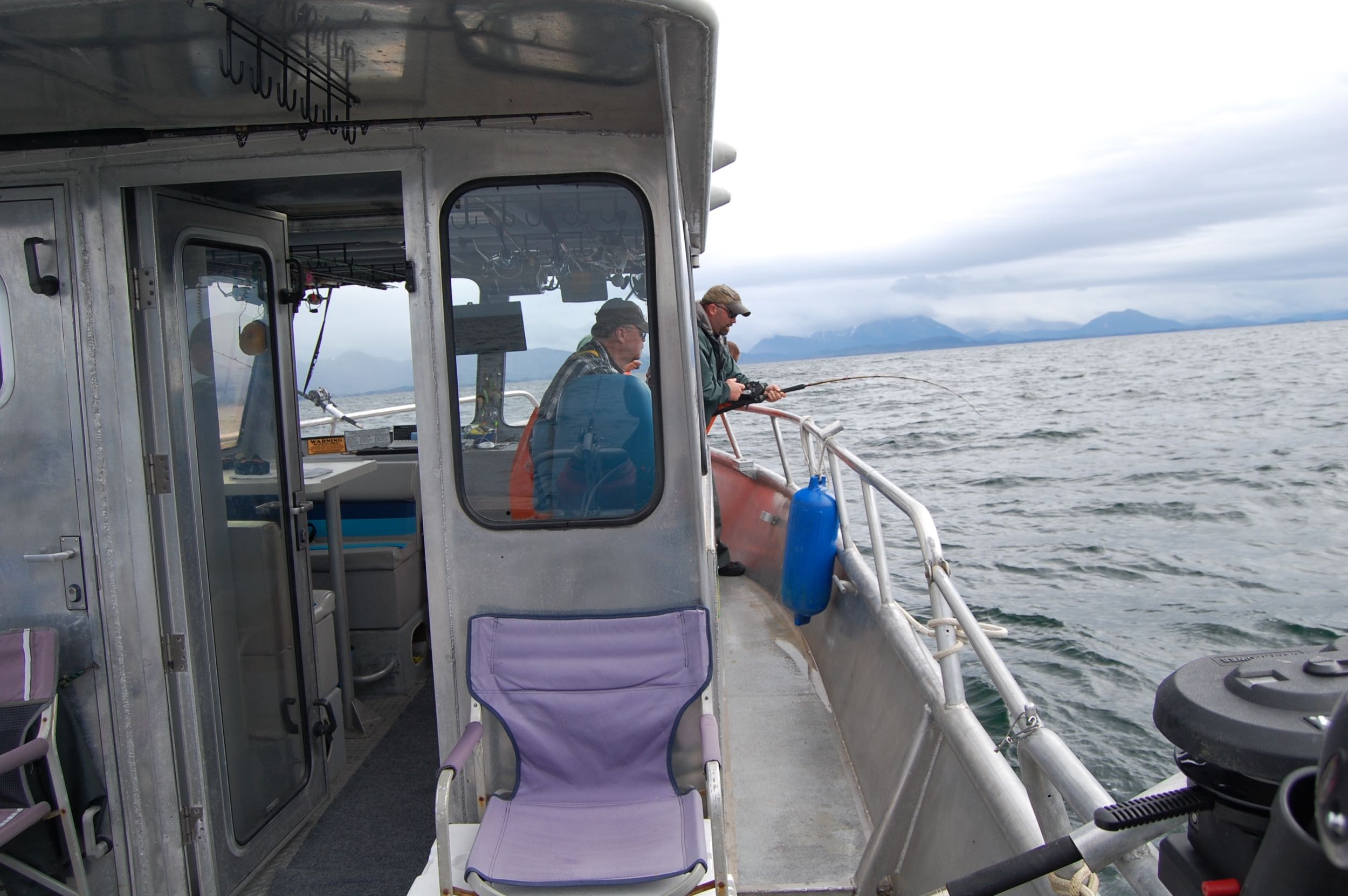 ENJOY A SECLUDED ATMOSPHERE THAT'S BOTH RELAXING AND EXHILARATING near PELICAN, ALASKA
No matter if you're a vacationing family and you want to teach your little ones, or it's your dream to wrestle with a huge Lingcod with your co-workers, Lisianski Lodge is the ultimate choice for any type of fishing game you're looking for, including fly fishing! We welcome both newbies and old pros with open arms.
The Lisianski Lodge is Your Ideal Home Away from Home
Nestled just two miles northwest of Pelican, where the town's motto is literally "closest to the fish", Lisianski Lodge is a dream destination. We're a quick 45-minute seaplane ride from Juneau. Once you arrive, you can expect a warm greeting, a hospitable and cozy atmosphere, and delicious home-cooked food in a beautiful antique cabin surrounded by berry patches and hiking trails. The Lisianski Lodge features:
Comfortable space for nine guests
Four bedrooms and three bathrooms
All-day, all-night generated power and spring-sourced, on demand hot water
A fire pit
A rope swing
Kayaking
Rockfish, salmon, dolly varden char, and halibut fishing from the beach
Blueberry, huckleberry, strawberry, raspberry patches, and more
Everything You'll Want and Need in Your Alaskan Fishing Trip
Built in 1939, Lisianski Lodge rests within the Tongass National Forest, the most northern rainforest in the world. We are secluded and calming, yet also adventurous and thrilling. You can take a soothing bath at the White Sulphur Hot Springs and enjoy views of humpback whales and nearby Glacier Bay National Park, hike a wilderness beach, marvel at the lushness of the worlds most northern rainforest and catch salmon, halibut, ling cod, rockfish and trout in both fresh and saltwater.
We take pride in providing a unique Alaskan experience.
With stunning surroundings, committed hosts, and a homey, rustic environment, Lisianski Lodge is the perfect Alaskan paradise for fishermen and wilderness enthusiasts. Our lodge is perfect for small groups of family or friends looking for a great Alaskan experience off the beaten path.